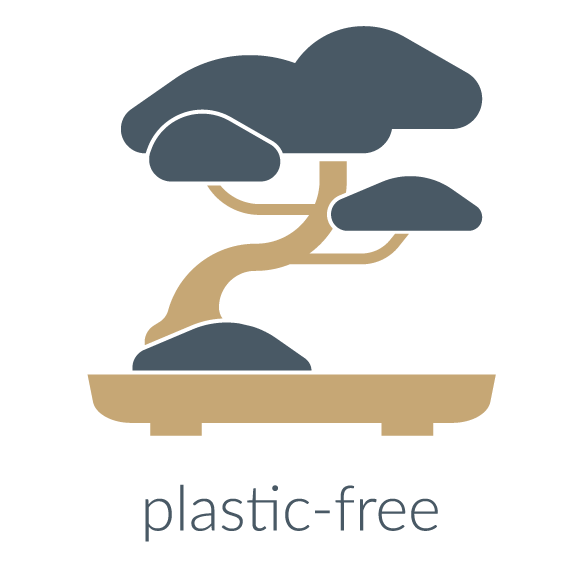 50% more ply than Naked Sprout
Our customers have told us that they prefer a soft unwhitened toilet tissue, that is why all bumboo unbleached toilet rolls are 3-ply. As well as being a more softer and pleasant wiping experience, it is more cost effective too.

Naked Sprout 48 pack 2 ply 320 sheets costs 13p for each ply of 100 sheets*

Bumboo 48 pack of 3 ply 300 sheets costs 10p per each ply of 100 sheets. That's 30% cheaper and 50% more ply.
*Price comparison carried out 22/07/2022
no bleach, scents, plastic or nasty chemicals
Bumboo unwhitened toilet rolls are made with 100% virgin bamboo fibre that has not been through the traditional bleaching process that gives toilet rolls their white appearance. This means that your toilet roll is more eco-friendly and you can enjoy your toilet roll coloured with its full natural fibre.
tree free tissues
Our environmentally friendly tissues are made with 100% super-soft bamboo, one of the world's fastest-growing trees and a rapidly renewable alternative to traditional tree-made paper products.
plastic free packaging
We like to avoid the use of plastic, that is why all of our packaging is designed with the environment in mind even down to the tape we use which is made with kraft paper and plant-based adhesives.

All our boxes are made with 100% recycled and recyclable cardboard which is both biodegradable and compostable.
tree planting
We are passionate about reducing our environmental footprint, that is why we plant one tree for every box you order. We do this with Eden Reforestation Projects who employ local villagers economically impacted by deforestation, providing an opportunity to earn income while restoring the forests that have been destroyed. 
So far our wonderful bumboo customers have helped us plant over 205,863 trees.
FSC certified
Minimalising our environmental impact is built into bumboo's DNA. This is why we source bamboo from well-managed forests that are recognised by the Forest Stewardship Council.
also available in
wrapped

Beautifully soft, 100% bamboo toilet paper wrapped in our luxurious bumboo wrapping paper printed with soy-based inks.

Shop now

unwrapped

100% bamboo toilet rolls without the wrappers.  Beautifully soft with minimal packaging, perfect for your regular eco toilet roll delivery

Shop now

unwhitened

Our new 100% natural, unwhitened bamboo tissue range has been created for those wanting to reduce their environmental footprint further.

Shop now
even more convenient with repeat orders
save 5% off every order

Everybody likes to save money, that is why all subscription customers save 5% off on everybody on all future orders.

skip or change frequency

Like most of us, you probably haven't taken much notice of how much toilet roll you use every month. You skip, add products or adjust your order frequency anytime in your subscription portal.

3-day reminder

There will be no unexpected deliveries, we'll email you before each shipment and if you're not ready, you can always delay your delivery. 

cancel at anytime

There are no tie-ins, you are in full control and can cancel your subscription any time.
FAQs
Is bamboo toilet paper expensive?

You might be surprised to know that Bamboo toilet paper is more cost-effective than you think. You may find that many supermarket toilet paper brands often show the price per roll, but bumboo has extra long rolls and often up to 50% more sheets than most supermarket brands. Our 48 unwrapped rolls cost 0.29 for 100 sheets, and of course we plant a tree on your behalf. A pretty sweet deal don't you think?
Where do you source bamboo for you products?

We source our bamboo from well-managed bamboo forests, which is why each bumboo product is certified by the Forestry Stewardship Council.
Does bamboo toilet paper block toilets?

We've worked hard to develop a premium bamboo toilet paper with excellent disintegration qualities comparable to leading premium virgin wood fibre toilet papers in terms of the time it takes to disintegrate once the paper makes contact with water. Therefore, it is suitable for all waste systems, provided that a premium 3 ply toilet paper is deemed suitable according to the manufacturers instructions.